For Sale: Foxtrotter Sorrel Mare For Sale
Traveler's Southern Rose is a sorrel two year old filly that is broke to ride and is extremely gentle. She is bred the best with her sire being Southern Sunrise and her dam a Missouri Traveler daughter out of a Mack K's Yankee mare. Rose is life time eligible for the Breeder's Cup and will be shown in Breeder's Cup competition on August 17th. As you can see, Rose has excellent conformation and she is a very stylish filly under saddle. This mare would be an asset to almost anyone's breeding program. Rose is easy to bathe and haircut, loads good, has been around the show scene once and has been rode outside quite alot.


Sold to Ronnie Morrow of Eugene, MO.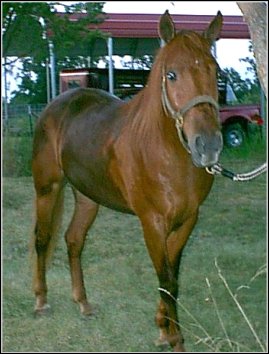 Price $3,000.
ALL PRICES ARE SUBJECT TO CHANGE AT ANY TIME AND WITHOUT NOTICE.


Home ~ Foxtrotters For Sale ~ Our Stallions ~ Our Mares ~ Our Foals
2005 Shows ~ 2006 Shows ~ Brenda's Stories ~ Awards ~ Links
~ Contact Us ~