For Sale: Foxtrotter Palomino Mare For Sale
This palomino mare for sale is named Dusty's Mac Wonder. Her date of birth is 9/26/94. Her Registration #94-45539. Her sire is Dusty's Natural Wonder (Dusty Traveler X The Two Timeing Hussy) and her dam is Big Mac's KoKo Girl (Zane's Big Mac X a Graham's KoKo mare).

Dusty Mac was broke to ride as a three year old, but has been used as a brood mare for the past several years. She has had several foals, please see the pictures of four of them which are included on this page. Dusty Mac is an easy keeper, has never had a problem foaling, has big foals, milks like a cow, and is an excellent mother. She is selling open. We did not breed her back this year but can breed her for the new owner - if desired. Otherwise, she can be bred to the stallion of choice. A 16 year old girl has been riding her a little bit. She is pretty and stylish under saddle and foxtrots natural.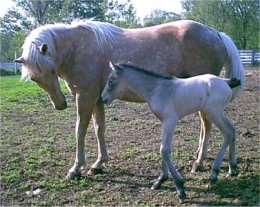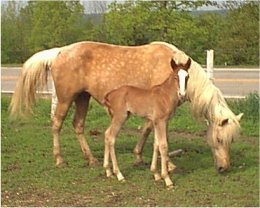 The buckskin colt above is Ebony's Big Mac Z. and he is sired by a black stallion named Ebony Perfection. He now resides in Colorado.

The sorrel filly above is Wonder's Rockin Rosie Z. and she is sired by Patriot's Red Wonder Z. (Outlaw's Patriot X Hustler's Noddin Bobbin Baby). She now resides in Israel.

The cremello filly below is Star Burst's Snow Angel Z. Her sire is Southern Sunrise's Star Burst B. (Southern Sunrise X Outlaw's Patriot mare). You can see a picture of Star Burst on our Stallion page, (click here and stallion page will open in a new window). This filly is now a yearling and is available for sale. Current pictures of her will be available soon on our For Sale page.

The palomino colt below is Star Burst's Billy Jack Z. He is a weanling full brother to Snow Angel. He is not currently being listed for sale but if someone were seriously interested in him, we might be willing to discuss price and terms of sale.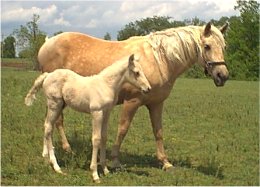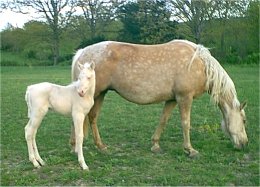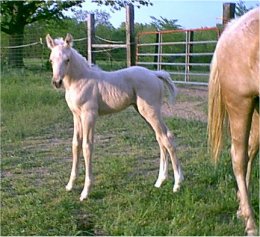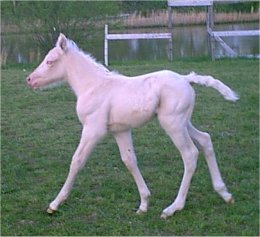 Price for Dusty's Mac Wonder is $2,000.
ALL PRICES ARE SUBJECT TO CHANGE AT ANY TIME AND WITHOUT NOTICE.


Home ~ Foxtrotters For Sale ~ Our Stallions ~ Our Mares ~ Our Foals
2005 Shows ~ 2006 Shows ~ Brenda's Stories ~ Awards ~ Links
~ Contact Us ~